One of my friends recently asked me how I made some of the xmas ornaments on my tree from last year, so I am going to do a little DIY series on them.

This one is a Yarnball ornament. The photo below were the ones I made last year, and personalized them for family gifts by adding broken china jewelry charms from my mother on them.

This year I decided to use thicker yarn for a different look, and keep it simple with just a few buttons.

WHAT YOU NEED:
foam ball
yarn
scissors
hot glue gun
ribbon
buttons
(or any accessories you would like to add)


Start by placing the yarn in the center of the ball.

Hold it down with your finger until you get a few wraps around the ball to hold the end in place.

It should start looking like this. Keep slightly turning your ball as you wrap the yarn around to keep it going in all directions. Otherwise you will get a fat buildup of yarn in one spot.

Continue this process until you begin to fill up all of the white space underneath with yarn.

Once all of the white space has been filled, you can cut the end of the yarn. Leave enough space to tie a little knot, or to just glue the end down. I tied a tiny little knot to ensure stability. But if you are working with dainty buttons or accessories you may want to just hot glue it down flat.

Then take your ribbon and hot glue it over that spot in a loop.

Then add your buttons or accessories in the middle of the ribbon loop. Not only does this make it cute, it covers up your spots where everything meets.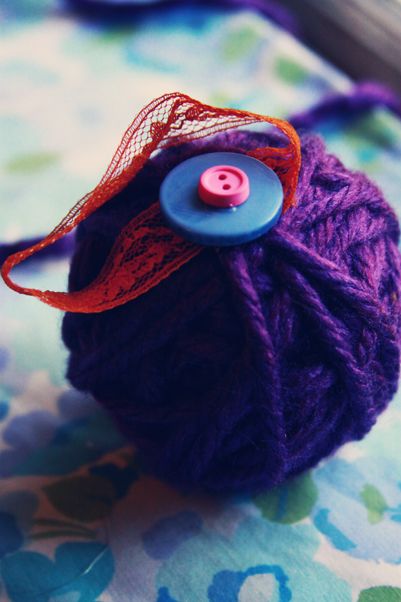 Now your ornament is ready to hang on your tree... Or, I used this as a cat toy, and added it to Bella's window of dangling things! It also just makes her little spot a bit Christmas-y!!!

This is a super easy project to do, even with your kids. You can buy these foam balls at the craft store in bundles of 6 for cheap, so go get some and have fun!

Let me know if you make any, Id love to see photos!

PEACE,
Laura